Leaky Architectures

Andrés Jaque in conversation with Kareem Obey
The contructed works of Andr
és Jaque are where science fiction, sewage systems, and urban politics collide as architectural practice. These are devices that are always doing: they are leaking, rolling, pumping, and feeding, often all at once. Jaque is the founding principal
of the Office for Political Innovation (OFFPOLINN), a Madrid- and New York-based practice who conceive of architecture as "the way different entities negotiate their coexistence." Herein, he speaks with Seattle-based architectural designer Kareem Obey who seeks out the leaky and fluid qualities of OFFPOLINN's body of work.

Read more on constellations, leaky devices, and the gay hookup app Grindr below.


COSMO, 2015
The works of COSMO, Different Kinds of Water Pouring Into a Swimming Pool
and Rolling House for the Rolling Society
propose, are implied to be, or are directly referred to as "devices". Given the power of words we use (and don't use) to understand and actualize our lived realities, what informs your decision to describe elements of these works as "devices"?
For me architecture is not about autonomous objects. I understand architecture as society being intervened. It is the way specific socio-environmental milieus are affected, what I would call architecture. So, from this perspective, it does not make sense talking about architectural objects. What is then important is the way different entities negotiate their coexistence.

Foucault's notion of dispositive or device or Agamben's apparatus are much more useful terms; since they characterize technological entities (and therefore by extension architectural, being architecture a form of technology) as participating socially, as plural, multiple and transscalar.


Given the implication of relational power within the label "devices", what are the power dynamics that these devices act in response to?

I see them as actors that introduce dissidence in transterritorial mediums, run by high concentrations of power. COSMO is a device of dissidence, that provides a demonstrative experience of how New Yorkers can coexist with the toxicity and waste their daily life is associated with, instead of having it sent to distant poorer states.

Architecture has the capacity to create spaces of disobedience and dissidence. Milieus where disalignment is possible. That is the way we operate. In the Office for Political Innovation, architecture is the invention of techno-social dissidence.


Rolling House for the Rolling Society, 2009
Much of your work exposes elements of the city that are present but are often invisible or overlooked, including underground plumbing, sewage, and drainage. What connection can you draw between the way that we as individuals or as a society relate to hidden infrastructures in the construction of both our physical and social environments?

We live in a world where realism struggles to fight collective alienating delusion. We are not interested in speculating about the future, but rather in rendering the present real; in densifying its load of realism. This is to say its criticality. Projects like Reggio School or Escarvox
are thought of as strategies to multiply the layers of realism specific mediums are loaded.
I can't help but notice a "leaky" quality present across these works. Whether it is a leakiness across literal or implied scales present in COSMO, a leakiness in identity suggested in Different Kinds of Water Pouring Into a Swimming Pool
and Rolling House for the Rolling Society and of course in the literal sense too - this collection of work is rather wet. What role does this wetness or, more specifically, leakiness play in these works for you?
Politics are often embedded in the way architectural entities expand and concrete across scales and mediums. Architecture is not contained in concrete objects. Architecture operates as relational states where broad constellations of entities negotiate their relationships and interdependencies. Now architecture is no longer an objectual practice, but rather a techno-social relational practice.


Speaking of power and leakiness, OFFPOLINN engages with what the limits of the practice of architecture can be and how it can more explicitly engage with (and subvert) the normativising rules/structures of our lived experiences. In doing so, OFFPOLINN seems to enact a model of actively queering architecture. To what extent would you say ideas of queerness, understood as destabilizing a rigid set of identities or ways of being, are at play in these works?

There is no escape from the domain of capitalism or the associated environmental crisis, but alternatives coexist with them. It is possible and needed to empower and multiply the possibility to enact alternative. Our work often consist on developing forms of design activism that attempt to reinvent our medium as loaded with multiplied modes of dissidence. The architecture of OFFPOLINN is focused on multiplying the existing forms of dissidence.
Rolling House for the Rolling Society, 2009

How can leakiness play a role in the alternative forms of occupation/engagement with space? Does it at all?


By studding the source of Berlusconi's power, we discover that contemporary power comes from the capacity for architecture to unfold as transmedium technologies. This is to say that the architecture that has the capacity to introduce changes in the techno-societies we live by requires to coordinate what happens on and offline and what happens at the large scale of mines with what happens in bodies. This is what we also found in projects such as Intimate Strangers,
the research project that we developed to back track the way the gay hook-up app Grindr, and other locative media operated.
The fluids of these works refer directly or indirectly to the body, our proprioception. How do you see the body and its relation to its own wetness in these works?


In a place like New York, high-end apartments, genetically engineered bodies and the massive transformation of the Marcellus Shale's mineral resources are all part of a massive architectural design that started to be developed in the 1980s and that is now becoming effective. This is what we reconstructed in our project Sex and the So-Called City
. A new type of medium not urban, nor rural, that has installed a regime of Highendcracy, that situate human and non-human in overlapping segregated milieus.
In the case of COSMO revealing the constellation of New York City's sewer system, I can't help but think of David Gissen's work Subnatures. Gissen's discussion of "dankness" elaborates on the idea that sewers and basements grew in parallel with surface level urbanization, and that dankness connotes ideas of otherness in the urban context. Contrarily, COSMO presents a distinctly pristine, non-dank space for its occupants. Was it purposeful to create this dissonance/reorientation of the sewage system?


AJ:

Yes. Not only of the sewage system, because it does not operate as an autonomous system, but to contribute to recompose the whole ecosystem of material power in the larger region affected by New York societies
.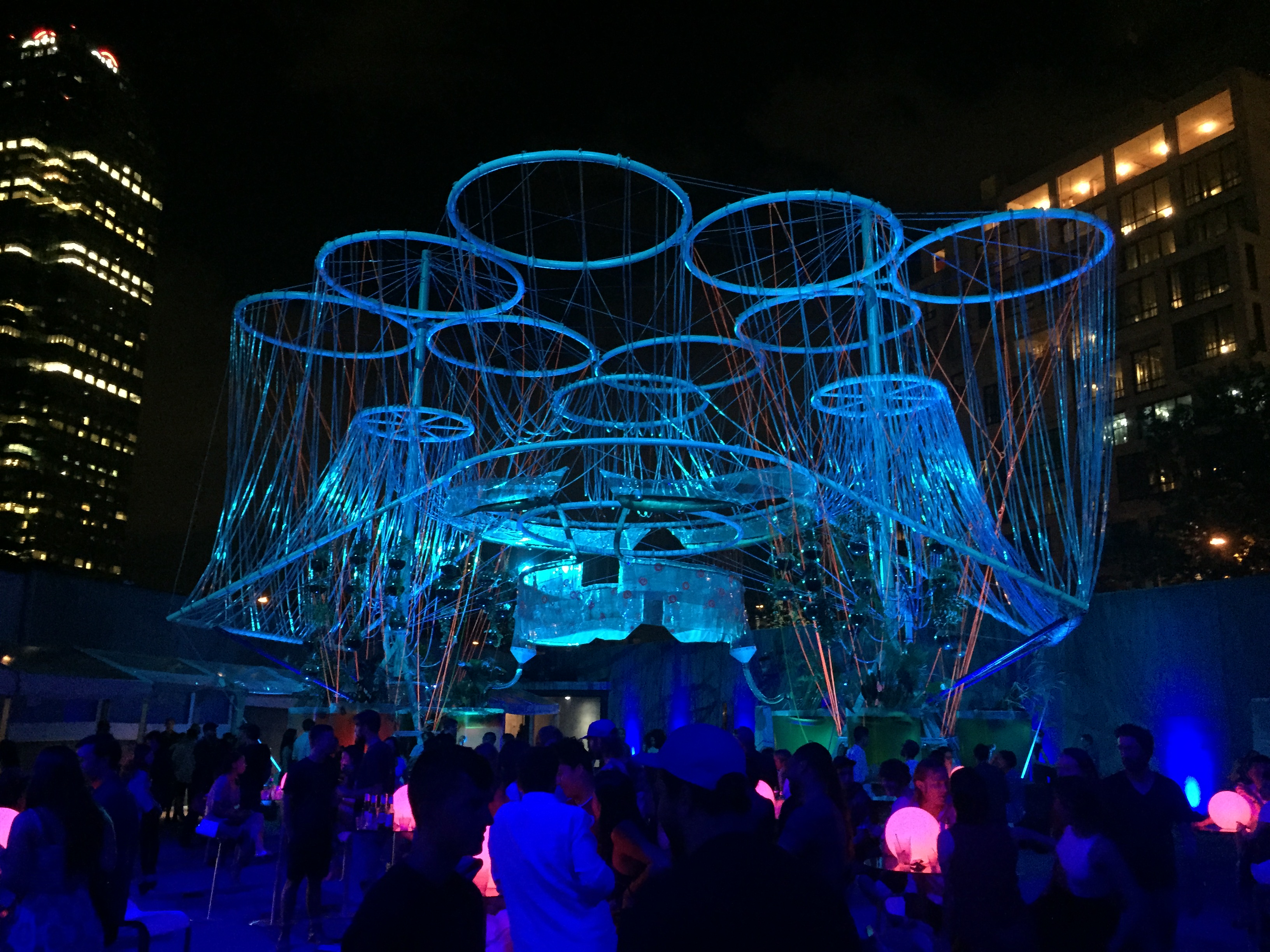 COSMO, 2015